Established in 2014, CitrusLeaf Software is a leading software innovation lab. Based in Indore, India, the firm also operates from Massachusetts, US. The firm's founder and CEO, Amrit Rathi, was a keen market observer, and he realized that businesses were not realizing their potential owing to the absence of proper business automation services. It was then when Amrit founded CitrusLeaf Software for businesses to recognize what technical revolutions had to offer and also accept them into their operational practices.
They measure their success in their client's accomplishments through their solutions while assisting them to function to the best of their ability. The CEO shared that amongst the many roles that he has to do at the firm from time to time, his prime responsibility is to ensure the delivery of bespoke software that is strategic and cost-efficient.
To understand what propels the tenacity of this customer-focused firm and its CEO, GoodFirms interviewed CEO Amrit Rathi, and what ensued was an informative session. Below is an extract from that conversation.
Astute Software Development Services:
Amrit recounted that theirs is an in-house team, and they do not outsource any aspect of the project. From design to testing, everything is managed by the team. They have proficient developers who distinctively contribute at each stage of the development. An in-house model has enabled them to deliver on-time, ensure enhanced customer satisfaction, and create an environment of inclusion by keeping the client consistently in the loop. He also expounded that they are innovators, but they do not traverse into the uncharted territory at the expense of the customer's time and energy. They explore new horizons and stretch their boundaries on their own.
The CEO also enumerated that the scope of digital transformation is boundless. Hence, his firm has been open to serve diverse industry verticals, while delivering top tier services to industries like Entertainment, eCommerce, Manufacturing, Telecom, and Cloud-based services like ERPNext implementation, development, and customization. Technical shrewdness and a customer-first approach have seen to it that they enjoy repeated collaborations with 50% of their clients.
A gratified collaborator, Amrit Arora, shares his experience with CitrusLeaf Software: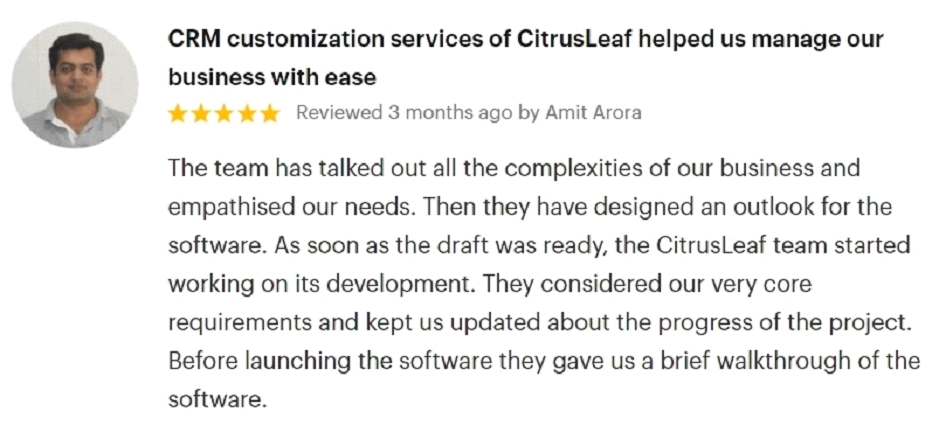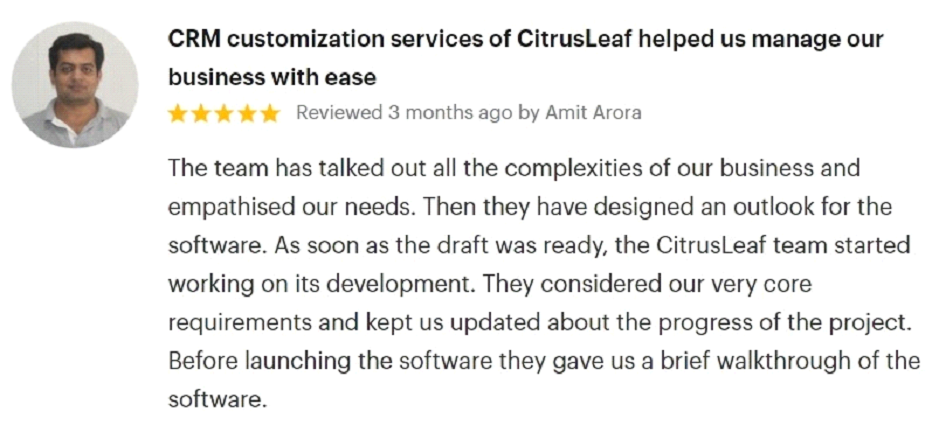 Their positive attitude has ensured that CitrusLeaf Software is comfortably seated amongst the table of the top software companies in Massachusetts at GoodFirms.
Precision and Targeted Mobile App Development:
Inquiring about mobile app development, Amrit narrated that selection of the right platform is a crucial parameter and, to a large extent, depends upon the client requirements. It is essential to invariably comprehend facets such as technical specifications, geographical market, targeted demographics, integrations required, and security parameters amongst many others. For a speedy development cycle which is cost-efficient for the client, said the founder, cross-platform development using Flutter framework is efficacious covering a huge customer base across iOS and Android phone users.

Amrit shared that this framework allows designers and developers to work together seamlessly, and the hot reloading feature facilitates delivery through faster iterations. When asked about the cost drivers, he explained that requirements, complexities, extensions, and add-on maintenance services post-deployment, all play important roles in determining the cost of the mobile app. The selection of the technology stack also contributes majorly to the cost variation.
CitrusLeaf Software will soon feature in the coveted list of the top mobile app developers at GoodFirms owing to their persistent efforts and innovation in this field.
Rahul Sethiya, a website owner, handed out CitrusLeaf Software a 5-star rating while stating:


For more information on the insights divulged by Amrit Rathi, please read the comprehensive interview at GoodFirms.
About GoodFirms
Washington, D.C. based GoodFirms is a maverick B2B Research and Reviews Company that helps service-seekers in finding Software Development and Mobile App Development companies that are rendering the best services in the industry. GoodFirms' bonafide research process ranks companies, boosts their online reputation, and helps businesses choose the right technology partner that meets their requirements.
About the Author
Anna Stark is presently working as a Content Writer with GoodFirms – Washington D.C. based B2B Research Company, which bridges the gap between service seekers and service providers. Anna's current role lingers in her to shape every company's performance and critical attributes into words. She firmly believes in the magic of words and equips new strategies that work, always in with ideas, something new to carve, and something original to decorate the firm's identity.