CitrusLeaf Solutions is a renowned entity in the digital development arena, and has risen in the evaluation books at GoodFirms and made a spot in top software companies in Boston their own.
Take a good look at the CitrusLeaf Software's GoodFirms profile to know more about the remarkable achievements of the firm.

A World of Difference:
CitrusLeaf Software is a leading software innovation lab founded in 2015. The firm operates with the belief that their success lies in the success of their clients. A team made up of talented and creative minds; their focus lies in delivering the best digital experience to the world's best and upcoming brands, which is the reason why they are trusted by enterprises and start-ups alike.

A team consisting of professionals from diverse disciplines, CitrusLeaf Software is capable of providing relevant and novel solutions with exceptional quality and on-time delivery. Their clientele is as diverse as their talent with businesses from industries like Travel & Tourism, Distribution, Construction & Real-estate, Retail & Ecommerce, Sports, and Education leveraging their services to their benefit.

Proactive communication and inclusion are highlights of collaborating with the firm. The client is constantly kept in the loop regarding the development, especially while testing and validating the product. A vision that says every business deserves accessible, usable and affordable software, CitrusLeaf has strived and hungered to achieve perfection only realizing that it is perennially growing.
GoodFirms – Your Partner in Search:
GoodFirms is a famous online B2B company that bridges the gap between IT service seekers and service provider companies. The panel of expert analysts and researchers at GoodFirms, evaluate a wide range of IT organizations that desire to be a part of the list of service provider companies. The research process is carried out based on the company's market penetration, client satisfaction, and total experience gained in the industry in comparison to other companies. These companies are further analyzed based on the three most important parameters of GoodFirms search process, which are Quality, Ability, and Reliability. The companies showing the best results are then added to the GoodFirms list of service provider companies.
GoodFirms have similarly assessed CitrusLeaf Software and found the company to be delivering outstanding services and solutions in software, web, and mobile app development.
Coherent Development for Sophisticated Software Solutions:
To integrate an entire organization, CitrusLeaf provides implementation and customized services through ERPNext, which is an open-source web-based platform and helps focus on their primary functions and responsibilities. From ideation to launch, their team of experts helps in understanding the market better, explain the technology involved, and address the intricacies of launching an MVP effectively.
With a full-cycle development at the offer, businesses find a reliable technology partner that can overlook the entire cycle beginning with resource pooling requirements right to the implementation of the final version of the product. The firm likes to keep pace with the new technologies and deliver their solutions several exciting frameworks and languages such as PostgreSQL, VueJS, DigitalOcean, Git, Redis.
Amit Arora is a happy collaborator who shares his views about the firm while handing them out a 5-star rating on GoodFirms: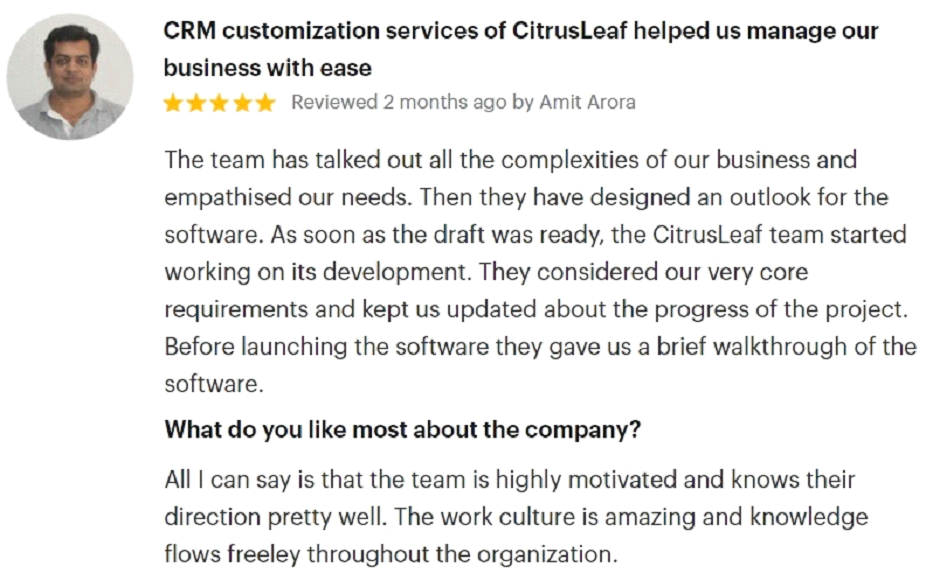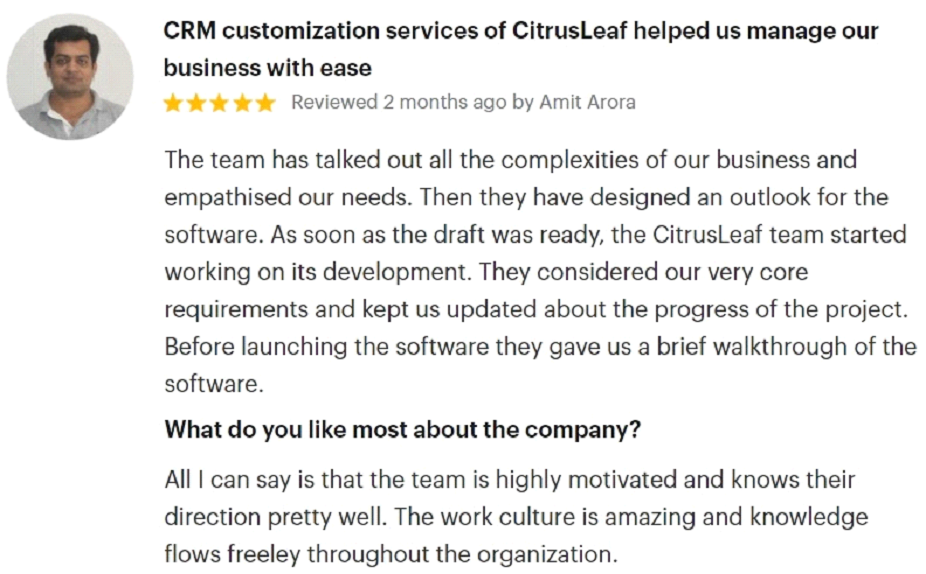 Their innovation and tendency to help understand the technology to the end-user are remarkable qualities that have righteously earned them a spot among the top software companies in Boston at GoodFirms.
Responsive and Scalable Web Development Services:

A growing business requires the support of growing technology. CitrusLeaf Software comes in to facilitate this need with cutting-edge web application development for customer business requirements for their esteemed clients. Their team of proficient developers is always geared with the latest tools of the trade to deliver the most robust web applications.
The firm helps their partners with solutions that are flexible, and scalable that leaves the end-user gratified in a world where web applications are gaining more traction. Working closely with the client, they define the product features, conceptualize and execute the flow, maintaining a solid development approach, and utmost control over the quality; they deliver solutions in the latest technologies such as Laravel and AWS.
The responsive and future-ready web application solutions enable businesses to keep pace with the modern world and are also the reason that they find themselves comfortably seated in the league of the top web development companies in Massachusetts at GoodFirms.
Mobile App Development That Centres Itself on Ease of Use:

For mobile apps, CitusLeaf uses Flutter, which is a highly intuitive Cross-Platform App Development kit. The firm has been building quality apps with a single code-base using this technology to help businesses that wish to target the Android and iOS market, simultaneously.
Equipped with the experience and capable of delivering the right strategy, CitrusLeaf possesses the necessary talent to turn promising concepts into high functioning and successful mobile apps. With innovative interfaces that are tailored to meet your business objectives, their solutions help to bridge the gap between the customers and the brand.
The Lead of Design and Corporate Communication at UniqMove, Gaurav Rathi, shares his experience with CitrusLeaf Software: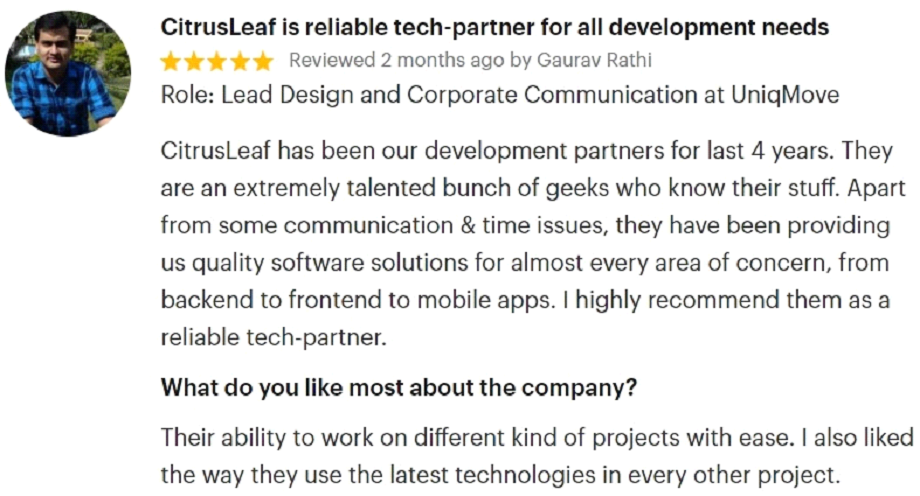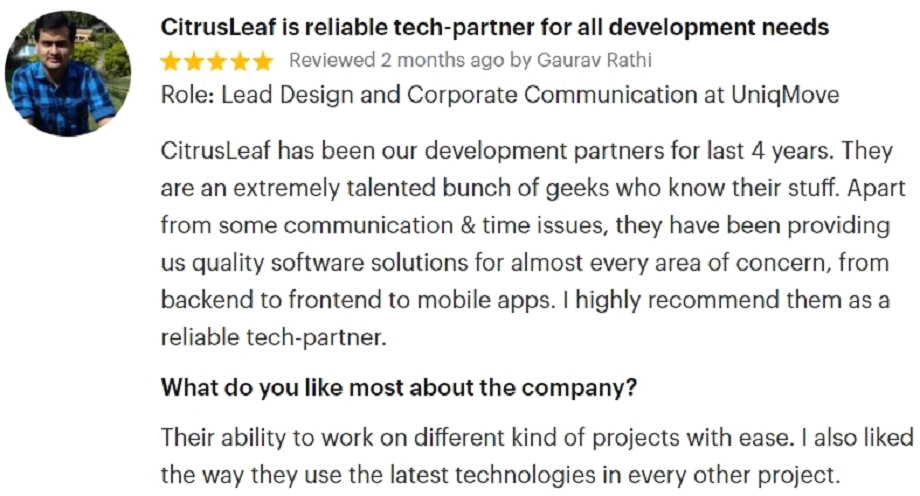 Resolute in function and simplified in use are the key features of their solutions that will soon merit them a place in the coveted list of top app development companies at GoodFirms shortly.
About GoodFirms
Washington, D.C. based GoodFirms is a maverick B2B Research and Reviews Company that helps in finding software development, web development, and mobile app development companies rendering the best services to its customers. GoodFirms' extensive research process ranks the companies, boosts their online reputation and helps service seekers pick the right technology partner that meets their business needs.
About the Author
Anna Stark is presently working as a Content Writer with GoodFirms – Washington D.C. based B2B Research Company, which bridges the gap between service seekers and service providers. Anna's current role lingers in her to shape every company's performance and key attributes into words. She firmly believes in the magic of words and equips new strategies that work, always in with ideas, something new to carve, and something original to decorate the firm's identity.